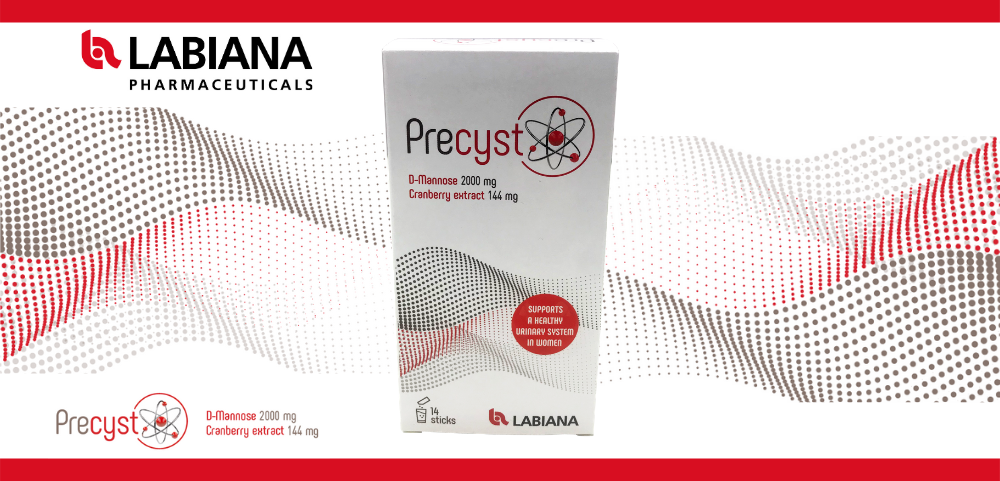 An average of 30% of women who suffer from cystitis get an infection more than twice a year. Acute cystitis is the most common amongst the urinary tract infections in women with an average of 50%-60%. To cover these needs, Labiana Pharmaceuticals launches a new nutritional supplement, PRECYST.
Thanks to the experience of more than 60 years in the pharmaceutical industry, Labiana certifies the highest quality and effectiveness of all its products. Like in other areas (scientific, medical, development, commercial etc.), Labiana team used its broad knowledge to develop PRECYST.
PRECYST, together with our product fosfomycin trometamol, allows us to expand the range of products for women's health. Its composition is based on two natural ingredients that have synergistic effects, D-Mannose and cranberry extract. Their association is effective and clinically proven by many studies for preventing recurrent urinary tract infections in women, mainly caused by the bacterium Escherichia Coli. PRECYST is complementary to antibiotic treatments. PRECYST presentation, with boxes of 14 sticks, is designed to facilitate regular intake. It is manufactured according to our specifications and high-quality standards in laboratories specialized in food supplements.
Labiana has a great knowledge of women health treatments as it owns and manufactures fosfomycin trometamol for treating acute uncomplicated cystitis.
Labiana aims to find the right customers to offer the use of the brand PRECYST, adding the possibility of adapting the packaging design to the specific needs of each market. Moreover, PRECYST has been notified in European Union countries and can be approved in other countries based on specific regulations related to food supplements.
At Labiana Pharmaceuticals we are confident with the launch of PRECYST and in the coming years we will increase our efforts to expand our product portfolio for human and women's health.