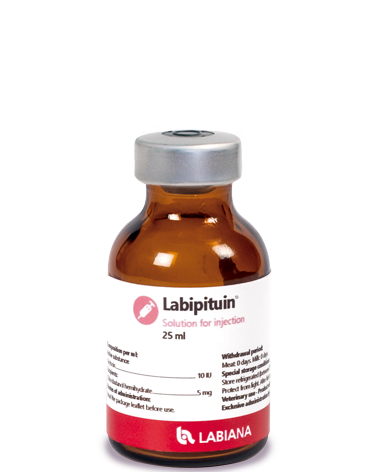 ---
---
Active substance
Oxytocin.
---
Indications
Calving induction. Uterine inertia or atony. Involution of the uterus after caesareans and reduction of hemorrhaging. Expulsion of afterbirth and remains of exudates after calving. Starting lactation after calving. Chronic pyometritis and endometritis to cause expulsion of exudates. Adjuvant treatment for antibiotic therapy of acute and chronic mastitis to cause the expulsion of remains and facilitate drainage.
---
Dosage and route of administration
Obstetrics. Cows: 7.5-10 ml. Mares: 7.5-15 ml. Sows, ewes, goats: 3-5 ml. Dogs: 0.5-2.5 ml. Cats: 0.5-1 ml. IV, IM or SC route.
Milk ejection. Cows, mares: 1-2 ml. Sows, ewes, goats: 0.5-2 ml. Dogs: 0.2-1 ml. Cats: 0.1-1 ml. Preferably IV route.
---
Withdrawal period
Meat: zero days. Milk: zero days.
---
Presentations
25, 100 and 250 ml vials.
Registry no. 585 ESP
---