In 2018 Labiana turns 60: an important achievement for our group, which reaffirms its commitment in the research, production and marketing of pharmacological and nutritional products for animal and human health.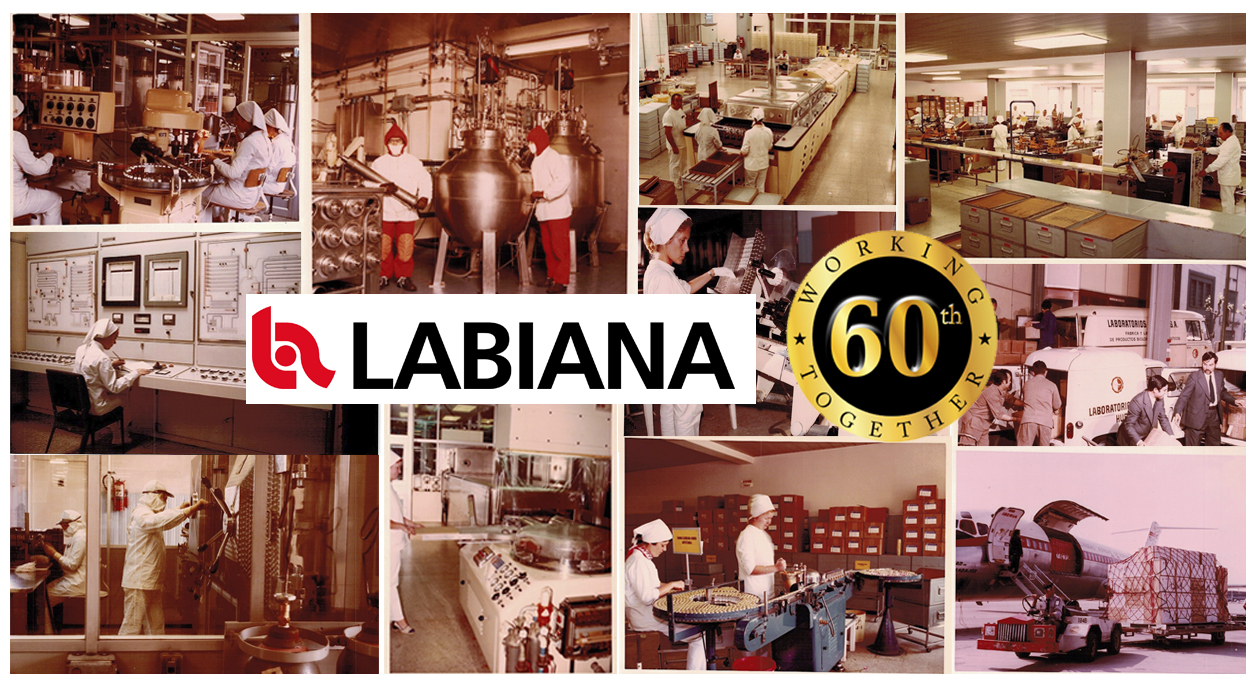 Labiana's journey begins in 1958 in Barcelona, ​​when it was established as a company focused on pharmacological products for livestock and correctors for animal feed. In 1966 changed its name into Laboratorios Labiana S.A. Later, moved its headquarters to Terrassa (Barcelona) where it still operates today. In 1979 merged with ANALÍTICA S.A. of Madrid, a company focused on animal nutrition, and became LABIANA ANALÍTICA S.A.
In 1980 Labiana was acquired by the BASF Group and became BASF LABIANA until 1999. By means of this merger, Labiana inherited the ethics and values ​​of a multinational, combined with the flexibility and commitment of a SME. This important heritage has been the foundation of the success that Labiana built over the years and keeps as a valuable treasure.
In 2002 Labiana expanded its range of activities to human health, thanks to the acquisition of the former Farmalepori manufacturing plant (from Angelini group), specialized in freeze-dried sterile products and other oral pharmaceutical forms. In 2004 Labiana acquired an additional plant from Valeant Pharmaceuticals (ex-ICN Iberica), located in Corbera de Llobregat and specialized in solid oral forms.
At that time, Labiana specializes in ​​human medicine: by taking advantage of the technological resources and the workforce, it brought together the organizational structure of a multinational firm and the flexibility of a customer-oriented CMO.
In 2010 the plant in Barberà del Vallès was eventually sold and the staff and technology were relocated to Corbera de Llobregat, which currently specializes in manufacturing sterile liquids and lyophilizes, non-sterile liquids and solid oral forms.
In 2013 seven members from Labiana management team (SEVEN PHARMA) acquired both companies (Labiana Life Sciences and Labiana Pharmaceuticals) establishing then LABIANA GROUP.
Our manufacturing facilities have a total surface of 17,000 m2 (9,000 m2 in Terrassa and 8,000 m2 in Corbera de Llobregat) and we rely on a workforce of more than 300 employees. Both Labiana contract manufactured and own branded products are currently sold in more than 80 countries. Labiana Group has also a subsidiary in South America, Labiana de México, which sells and distributes our own animal health products.
To celebrate its 60th anniversary, Labiana will carry out several activities throughout this year, such as the extension of Corbera de Llobregat manufacturing plant, the increase of animal health products portfolio, new human health pharmacological divisions, and new development projects.
Finally, Labiana this year will exhibit with its own stand at ANEMBE International Congress of Bovine Medicine in Vigo (6-8 June 2018), at CPhI in Madrid (9-11 October 2018) and EuroTier in Hannover (13-16 November 2018): special events will be held with national and international clients and distributors.
Labiana: 60 years working together!