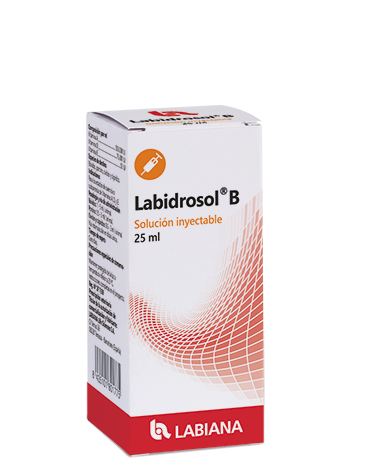 ---
---
Active substances
Nicotinamide, D-panthenol, vitamin B1, B2, B6, B12.
---
Indications
Vitamin B complex deficiencies in cows, sheep, goats, pigs and horses. Disorders of the nervous system, paralysis, ataxia, neuritis, convulsions…Stress and infectious diseases due to convalescence. Combination with treatments of antibiotics, sulfonamides, nitrofurans, anthelmintics… Adjuvant treatment in disorders such as ketosis and toxemia. In cases of anorexia, to increase food intake. For pregnancy. For promotion of growth, fertility and improving production indexes.
---
Dosage and route of administration
Bovine: Adult livestock: 5-10 ml/animal. Calves: 1-5 ml/animal.
Ovine, caprine, porcine and foals: 1-5 ml/animal.
Dogs, Cats: 1-5/animal.
IM administration, two or three times a week.
---
Withdrawal period
Zero days.
---
Presentations
25, 50, 100 and 250 ml vials.
Registry no. 6064 NAL
---