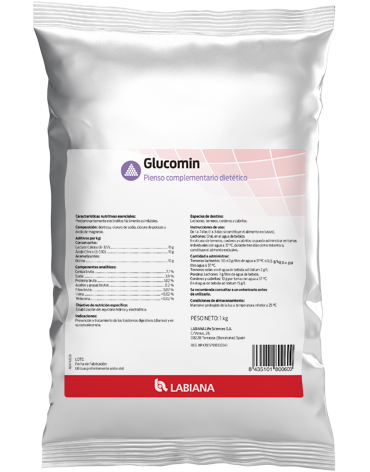 ---
100 g* and 1 kg
---
Components
Dextrose, sodium chloride, potassium chloride, magnesium oxide and cristobalite.
---
Indications
Prevention and treatment of disorders (diarrhoea) and during convalescence.
---
Dosage and route of administration
Nursing calves: 30-40 g/litre or 0.5 g/kg l.w.
Rearing calves: in the drinking water ad libitum 2 g/litre.
Lambs and kids: 10 g per intake. In the drinking water ad libitum 15 g/litre.
Piglets: 7 g/litre. Oral in drinking water at 37ºC.
1 to 7 days.
Piglets: Oral, in drinking water.
Nursing calves, lambs and kids: it can be administered in individual doses with water at 37º C, for a maximum of three days if it constitutes the exclusive food.
---
Presentations
100 g sachet. 1 kg bag.
*100 g registered in Mexico and for Export.
αESP-08100341
---