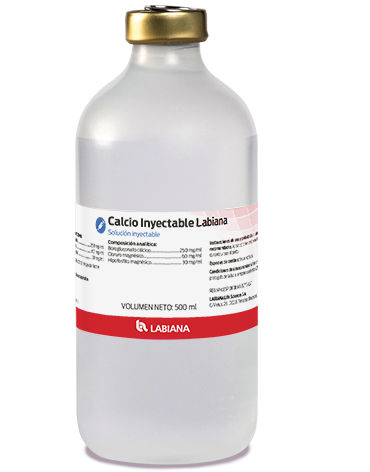 ---
---
Active substances
Calcium borogluconate, magnesium chloride, magnesium hypophosphite.
---
Indications
Ante-partum and post-partum paresis (milk fever) and paresis during the nursing period. Tetany, due to any aetiology. Eclampsia. Haemorrhaging. Haemoglobinuria. Anaphylaxis and allergic processes. Osteomalacia and hypocalcaemia due to any aetiology. Intoxication by carbon tetrachloride (in the treatment of fascioliasis). Intoxication by chlorinated insecticides, lead, oxalic acid, chemical products and medications.
---
Dosage and route of administration
Adult bovine and horses: 250-600 ml. If the animal falls again or does not get up after 8-12 hours, the treatment must continue every 6 hours until its recovery. In cases of ketosis or transport tetany IV glucose must be administered with a different syringe.
Calves, bovins, caprins, pigs and foals: Acute hypocalcaemia: 25-100 ml. Chronic hypocalcaemia: 5-10 ml.
Piglets: 3-5 ml.
IM or IV administration. A half-dose can be administered IV and the remaining dose IM.
---
Withdrawal period
Zero days.
---
Presentations
250 and 500 ml vials.
Registry no. 9327 NAL
---