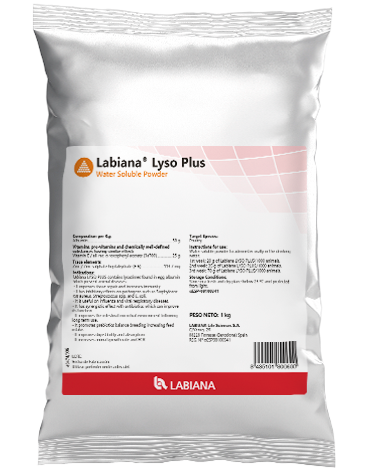 ---
---
Components
Albumin, vitamin E, zinc.
---
Indications
It improves tissue repair and increases immunity. It has inhibitory effects in pathogens such as Staphylococcus aureus, Streptococcus spp. and Escherichia coli. It is advisable in case of flu and respiratory diseases. It has a synergic effect with antibiotics, which can improve its function. It improves the intestinal flora after long-term use. It promotes prebiotic balance of breeding, increasing food intake. Improves digestibility and absorption. It increases animal growth rate and FCR.
---
Dosage and route of administration
1st week: 20 g/1000 animals. 2nd week: 35 g/1000 animals. 3rd week: 70 g/1000 animals. Water soluble powder for oral administration in drinking water.
---
Presentations
100 g sachet. 1 kg bag.
αESP-08100341
---