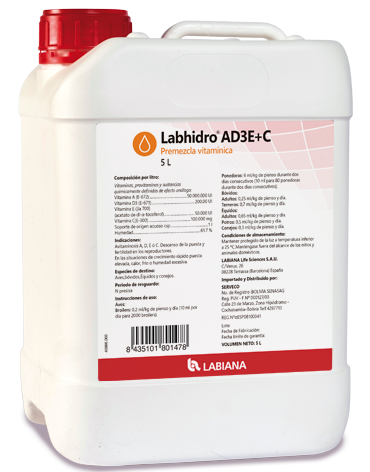 ---
---
Components
Vitamin A, C, D3, E.
---
Indications
Avitaminosis A, D or E. Decrease in the fertility rate. Increase resistance against diseases. For faster growth, parasitism, in case of hot or excessively humid weather, treatments, changes in the shelter or food, etc. As a general stimulant of weary or weakened animals of all species, in critical periods of the animals' life, such as periods of reproduction, pregnancy and lactation.
---
Dosage and route of administration
Bovine, ovine and caprine. Adults: 0,25 ml/litre/day. Calves, lambs and kids: 0.7 ml/litre/day.
Porcine: 0.25 ml/litre/day.
Horses. Adults: 0.65 ml/litre/day. Foals: 0.5 ml/litre/day.
Poultry. Broiler chickens: 0.2 ml/litre/day. Laying hens: 6 ml/litre in drinking water in two consecutive days.
Rabbits: 0.3 ml/litre/day.
Oral administration in drinking water.
---
Presentations
200 ml and 1 litre bottles. 5 litres jug.
αESP-08100341
---