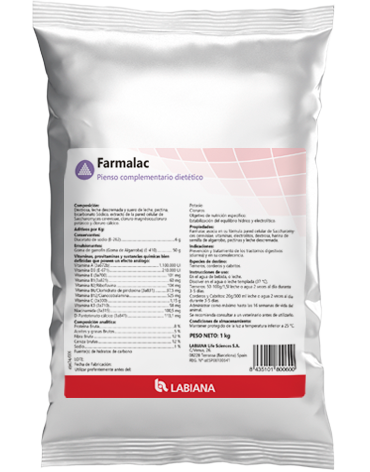 ---
100 g* and 1 kg
---
Components
Dextrose, skimmed milk and whey, pectin, sodium bicarbonate, extract of the cell wall of Saccharomyces cerevisiae, magnesium chloride, potassium chloride, sodium chloride, calcium chloride.
---
Specific nutrition goal
Stabilization of water and electrolyte balance to support physiological digestion.
Indications
Prevention and treatment of digestive disorders (diarrhea) and in convalescence.
---
Dosage and route of administration
In drinking water, or milk. Dissolve in water or warm milk (37º C).
Calves: 50-100 g/1.5 litres of milk or drinking water.
Lambs and kids: 20 g/300 ml of milk or drinking water.
Recommended usage period: 1 to 7 days.
It can be used up to 16 weeks of the animal's life.
---
Presentations
100 g sachet. 1 kg bag.
*100 g registered for Export.
αESP-08100341
---