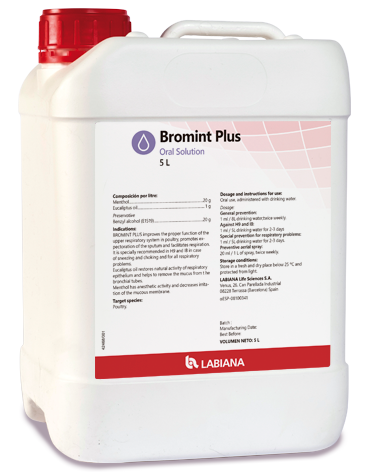 ---
---
Components
Menthol, eucalyptus oil.
---
Indications
Recommended to improve the function of the upper respiratory system in poultry, promotes expectoration of sputum and facilitates respiration. It is especially recommended in H9 and IB in case of sneezing and choking for all respiratory problems. Eucalyptus oil re-establishes the natural activity of the respiratory epithelium and helps to eliminate the mucus from the bronchial tube. The menthol has anaesthetic activity and reduces the irritation of the mucous membrane.
---
Dosage and route of administration
General prevention: 1 ml/8 litres of drinking water, 2 times a week.
Against H9 and IB: 1 ml/5 litres of drinking water, 2-3 times a week. Special prevention of respiratory problems: 1 ml/5 litres of drinking water for 2-3 days. Preventive air spray: 20 ml/1 litre of spray, 2 times a week.
---
Presentations
200 ml and 1 litre bottles. 5 litres jug.
αESP-08100341
---