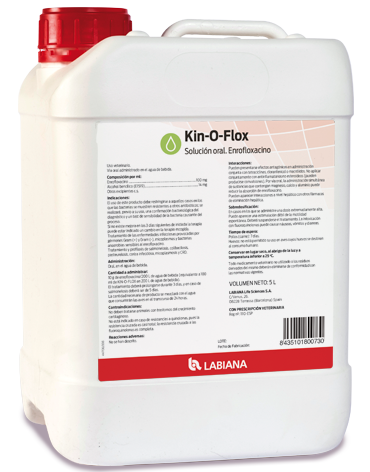 ---
---
Active substance
Enrofloxacin.
---
Indications
Poultry (broiler chickens). Treatment of infections caused by the following bacteria sensitive to enrofloxacin: Mycoplasma gallisepticum, Mycoplasma synoviae, Avibacterium paragallinarum, Pasteurella multocida.
---
Dosage and route of administration
0.1 ml /kg body weight /day for 3-5 consecutive days. Administration in drinking water.
---
Withdrawal period
Poultry (meat): 7 days.
Its use is not authorized in laying hens whose eggs are used for human consumption. Do not use in replacement laying hens in the 14 days prior to the start of oviposition.
---
Presentations
1 litre bottle. 5 litre jug.
Registry no. 1110 ESP
---